The Dark Half
The Dark Half
April 2018 – October 2018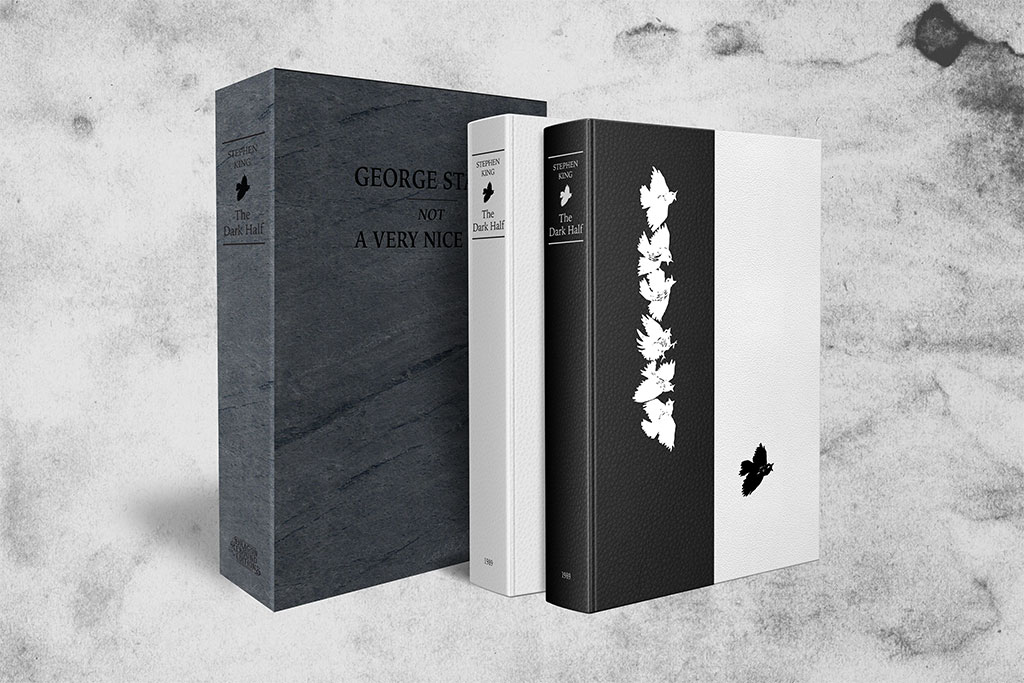 Introducing the latest Dragon Rebound: The Dark Half
It's time for a brand new rebound book! We are giving the Dragon Rebound treatment to The Dark Half. What started out as a prank, has now evolved into the next book in the custom-bound series of 1st edition novels by Stephen King. For those who don't know, some members of thedarktower.org decided to "punk" me by making up an elaborate April Fools day joke in which they created a fake announcement for a new release of The Dark Half.
The perpetrators of this hoax went to a great deal of trouble creating digital mockups, and other embellishments, then packaged it all up as a parody of the work I do. I was flattered. I was ruffled. I was impressed! I liked the concepts so much, that I decided to make their ideas a reality, with a few tweaks and touches from the DRE team. So thank you Simon and Jerome!!
For those unfamiliar with these books, we work with a bookbinder and other artisans, to rebind an original 1st edition page block, and we incorporate elements of the story into the design of the binding. It is our way of honoring the work of Stephen King, and creating an edition that collectors, and fans can cherish.
Quarter Leather Binding
The book is presented in two binding states. Both are quarter bound in leather, with one version bound in black leather, and another in white. Half of the run is white, and half black. When ordering, you can select your preferred color (while supplies last.) The front panels and spine are foil stamped.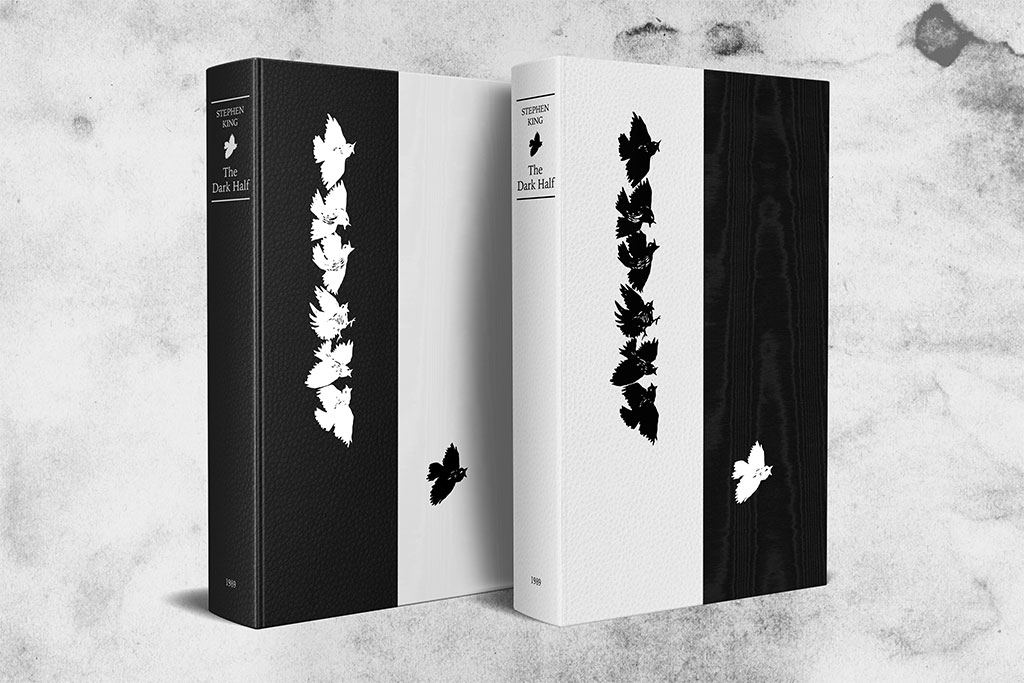 Slate Covered Box
We have sourced this incredible Quartzite slate material from Italy, and it will be used to cover the custom box which will house this beautifully bound book. Made to look like George Stark's gravestone, it is the perfect covering material for this edition. It ain't cheap, but hey, we want the best for our rebound books!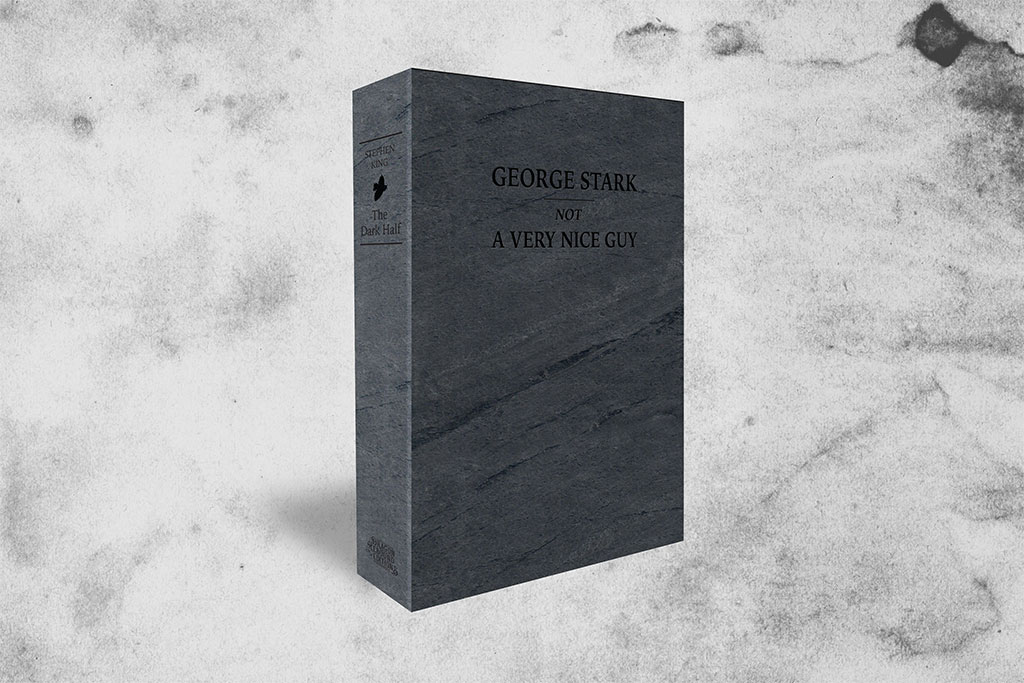 Lars Hokanson
We have been working with Jake Hokanson, the son of the late Lars Hokanson. Lars was the artist who created the bird engravings which appeared in the 1st edition of The Dark Half. We were so fortunate to have connected with Jake, and he was very helpful in providing us with this artwork. As a way to remember Lars, and pay tribute to his work, the birds that are stamped on the cover of the book, are the very same birds that were created by the artist!
Unique Floating Feathers Endpapers
This Floating Feathers pattern is silkscreened in India on a navy cotton base paper. It has a beautiful texture and feels just wonderful to the touch.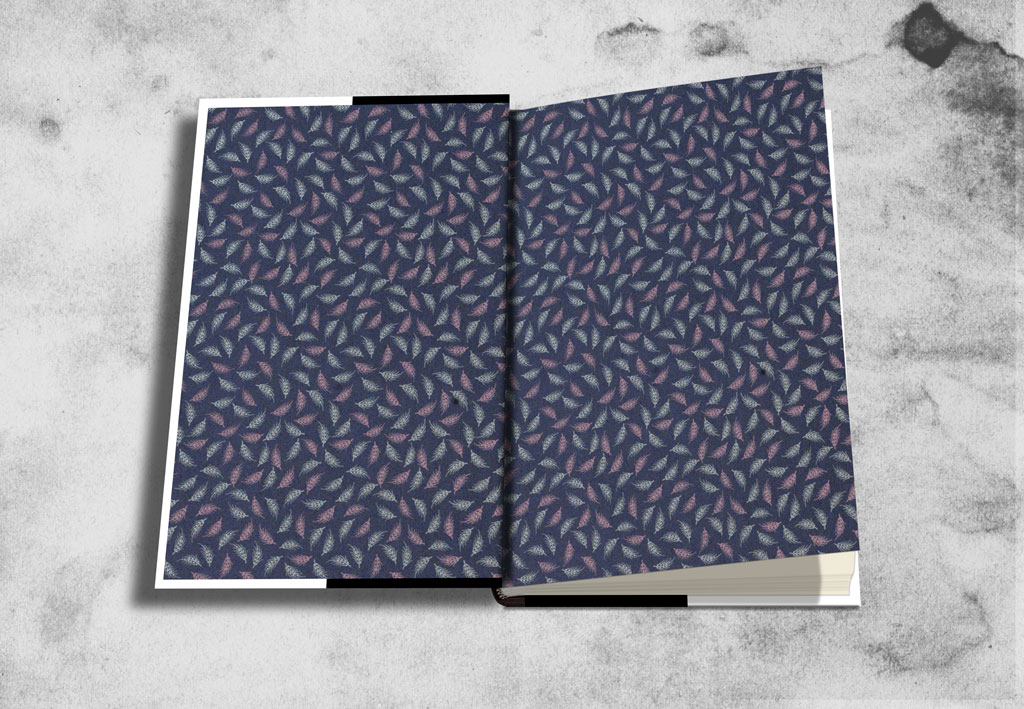 Engraved Wood Block Bonus
ALL orders received will ship with this limited edition promotional item. This is a laser engraved solid wood block, cut to the shape of a gravestone, and expertly engraved. We are only making enough of these for the orders received, and will not be making more.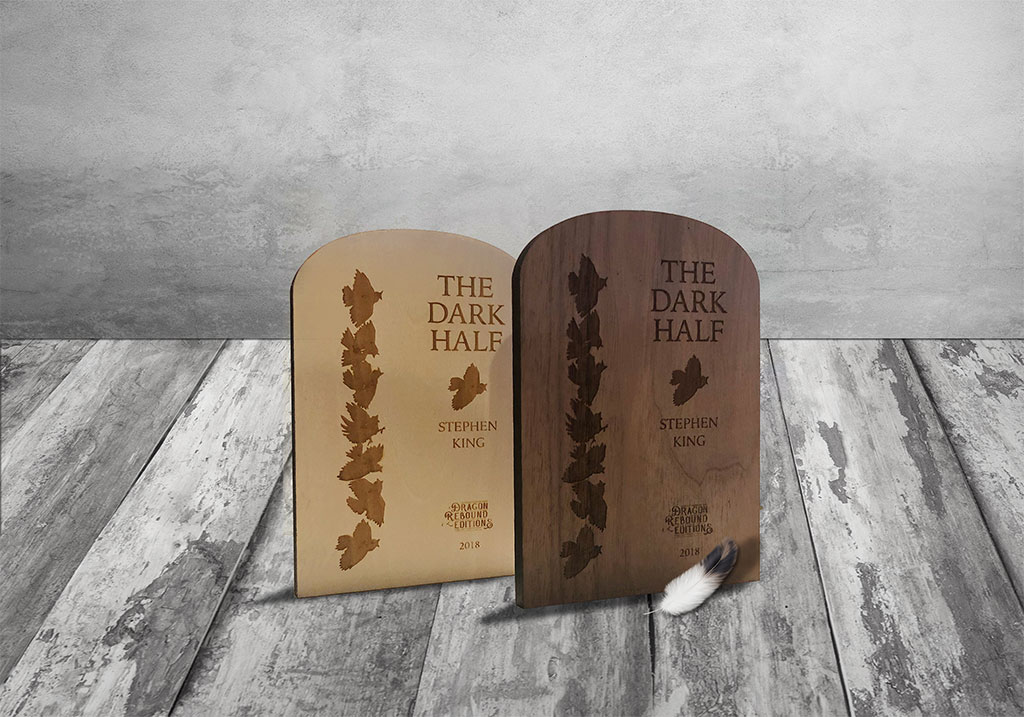 Limited Edition Letterpress Print Bonus
Included with ALL orders is this special limited edition print of the bird engravings by Lars Hokanson. This is letterpress printed on a beautiful 300 gsm Somerset Velvet cotton paper, with a deckled lower edge. Each print is numbered by hand.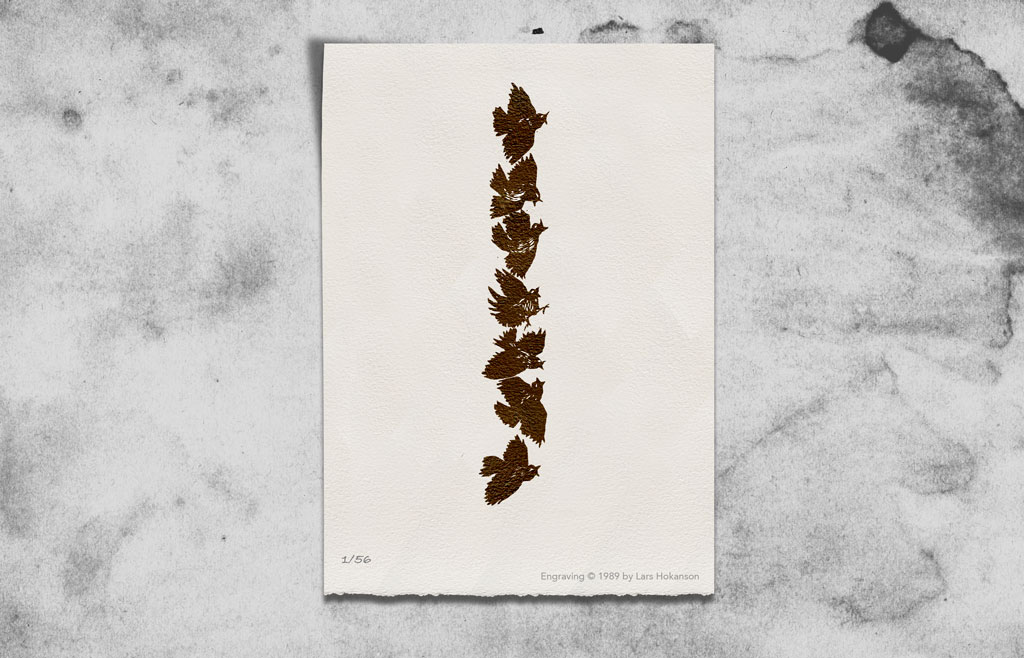 Bangor Public Library Donation
A portion of the proceeds from the sale of this rebound edition will be donated to The Bangor Public Library. The vision of the Library is to contribute to the prosperity and growth of the city of Bangor by fostering the spirit of exploration, the joy of reading, the pursuit of knowledge, and the preservation of its community's history.
---
Rebound Run
Up until the Rebound IT, these custom bound books were known primarily to a small group of collectors. When we announced the IT book, it generated a lot of publicity, and a whole lot more people discovered Dragon Rebound. Ever since the beginning, there have always been folks who missed out for one reason or another. Now there are just more people missing out.
With a limited run of only 26 copies, demand is far greater than supply, resulting in a bunch of folks who are disappointed that they missed out. But that's how it goes with limited runs like this. You just can't make everyone happy. The Wait List that we maintain now has over 250 names on it! We could never satisfy all of these interested parties. But there's a way to satisfy twenty-six more of them.
When I created the first rebound book, one of my main motivations was the joy it brought to the people who bought a copy. That motivation has not changed, and if I can make a few more folks happy campers, then why not.
For that reason, this rebound edition of The Dark Half will be made in an expanded quantity of 52 books. For some of you who have been on the wait list for a long time, and have desperately wanted one of these books, you will now have a chance to purchase a copy.
If you are on the wait list, and you are one of the next twenty-six people on the list in the order in which you requested to be added, you will receive an email asking if you would like to purchase a copy. If you decline, we will continue to go up the list.
The books will be lettered A-Z on the first twenty-six, and AA, BB, CC, etc. on the remaining twenty-six. Current rebound owners will have first color choice, and the remaining colors will be available on a first come, first served basis.
This custom-bound edition of The Dark Half by Stephen King uses the page block from an original Viking trade first edition hardback.
The book is hand-sewn and bound in quarter leather with a white and black foil stamped cover and spine. The front and back boards are covered in black and white European cloth. Half of the books are bound in black leather and half in white leather. Endpapers are silkscreened in India on a navy cotton base paper. The book is housed in a custom handmade cigar-style box covered in black Quartzite slate from Italy, and lined with black velvet.
These editions are first offered to owners of the previous custom-bound book, who have right of first refusal on new titles. If a previous owner declines to purchase the new book, or one should become available for some reason, then we contact people on the wait list in the order in which the submission was received. We are currently not taking any new Wait List submissions.
---
Bird engravings © 1989-2018 by Lars Hokanson