August 2019 – May 2021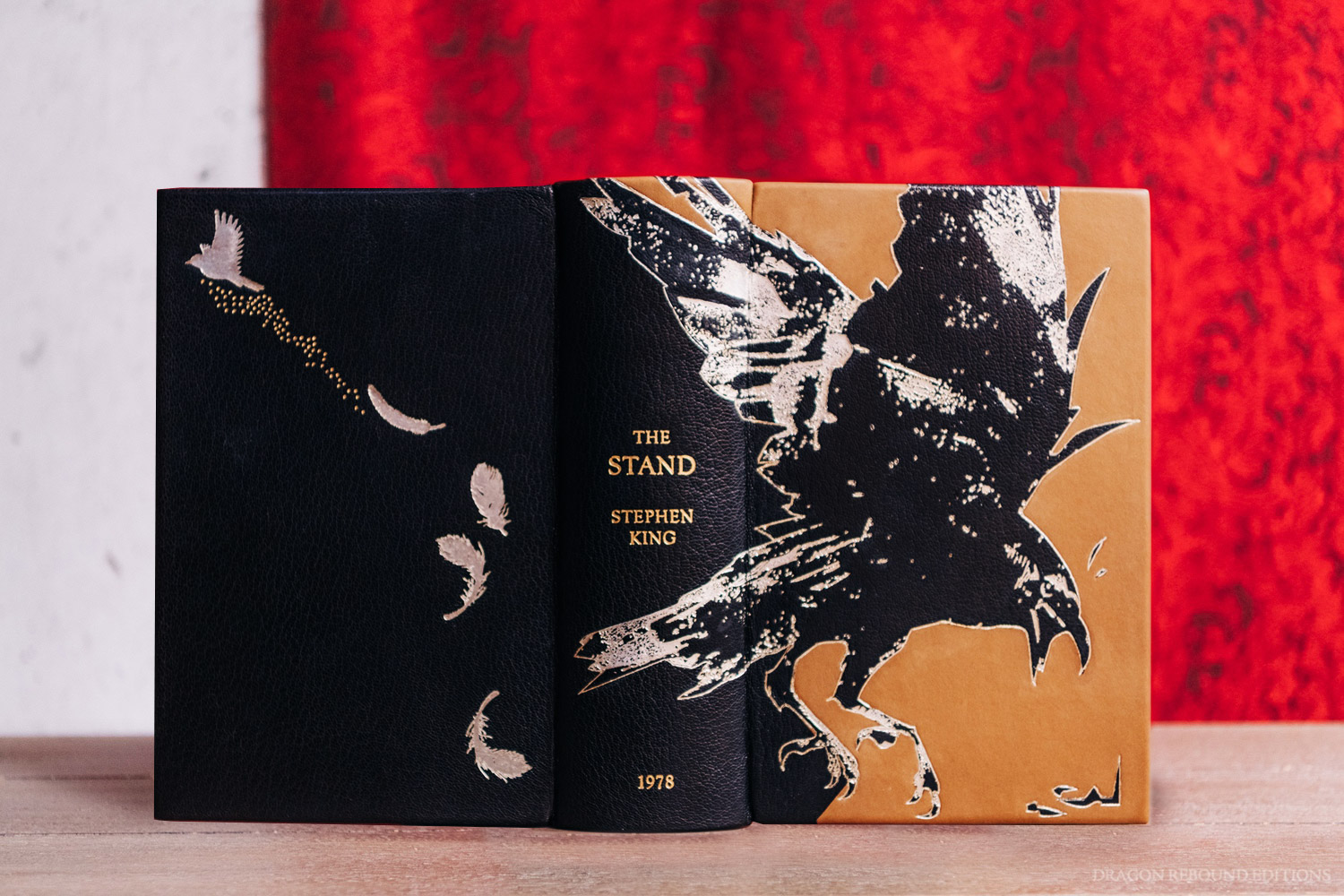 Over Eighteen Months in the Making!
This custom-bound edition of The Stand by Stephen King is hand crafted using the book block from a Doubleday 1st edition originally published in 1978 and is limited to ten copies, two of which are kept in-house.
Bound in restoration calf and black goatskin by Shepherds Bookbinders in London, this edition features designer endpapers which are hand-painted with spirit dye and acrylics. Headbands are handsewn using silk threads, and the edges are hand painted with acrylics. The cover is hand tooled and finished in white gold leaf. The clamshell enclosure with a rounded spine is covered in black goatskin and lined with suede.
Ten copies are numbered I – X
– On Hand and Ready to Ship –
---
For those unfamiliar with these books, we work with hand bookbinders and other artisans, to rebind an original 1st edition book block, and we incorporate elements of the story into the design of the binding. It is our way of paying tribute to the work of Stephen King.
---
---
Sold by Lottery
Since this is the first Roman Numeral edition of a rebound book, there are no previous "rights holders", and the copies will be sold by lottery. To enter the lottery for a chance to purchase a copy of this edition, please submit the form below. Only one copy per household. Please only submit the form if you are able and willing to purchase a copy for the issue price of $5,500. Entries are open until 12pm PT on Friday, May 14th, 2021. There is no installment plan offered, but you could take advantage of the PayPal 6 Months option.
THE LOTTER IS NOW CLOSED.
5/20/21: Winners have been emailed.

5/16/21: A message for those who entered the lottery: When we get to the point of emailing the winners, we will post that we have here. For now, there is no need to check email/spam because we have not notified anyone yet. It may be up to a week before we notify the winners because we have a very busy week. We will get to this ASAP. Thank you for your patience.
---
Bangor Public Library Donation
A portion of the proceeds from the sale of this rebound edition will be donated to The Bangor Public Library. The vision of the Library is to contribute to the prosperity and growth of the city of Bangor by fostering the spirit of exploration, the joy of reading, the pursuit of knowledge, and the preservation of its community's history.
---
Photography by Yegor Malinovskii