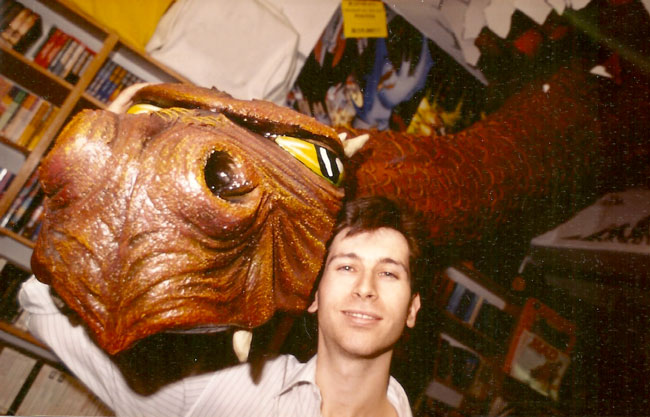 That's a picture of me when I was about 25 years old. I'm the one on the right. Back then, like most people at that age, I felt immortal. I could do anything I wanted and I would sprint toward my dreams as if there were no such thing as failure. Everything I imagined, I made a reality. I wanted to own a bookstore and I did. I wanted a dragon bursting through the ceiling, and I made it happen.
That attitude worked well for me and I had the best time of my life. Now, with another 25 years behind me, it's easy to lose some of that verve; that free spirit and the drive to pursue that which you love and are inspired by. We tend to get bogged down by the weight of the years as they pass rapidly all around us. We become immobilized by fear, anxiety and negative self-talk. Essentially, we lose the inner child.
As adults we learn some hard lessons, and experience the ups and downs of what it means to be human. We can easily lose sight of our dreams because we're so focused on simply existing; on supporting ourselves and our families, and dealing with loss and other challenges.
Since quitting my regular  job in 2006, I have made every effort to live my life by one philosophy, and that is to do what I love and what excites and inspires me. This custom-bound book project is one of those things and I have been having such a good time doing it.
Seek those who fan your flames.
— Rumi
What I do is purchase 1st edition copies of some of my favorite books; in this case those written by Stephen King, and then I work with bookbinders to rebind the page blocks from these books in a unique way that ties into the story being told between the pages.
The books are bound in leather and feature elements such as raised bands, gold tooling, marbled endpapers and custom headbands. The books are then housed in either a slipcase or a traycase. One of the most exciting aspects of these books is that I work with the artist who illustrated the 1st edition of the book, and we include either the artist's signature, or a new original drawing signed by the artist. In most cases, a limited print of the original cover art is signed by the artist and included with these editions.
This whole idea evolved from a personal project when I decided I wanted to rebind The Eyes of the Dragon, and then soon discovered that there were other collectors out there who loved the idea and wanted a part of it.
Always dream and shoot higher than you know you can do. Do not bother just to be better than your contemporaries or predecessors. Try to be better than yourself. — William Faulkner
The first book was a great success and after it was done and delivered to those who acquired a copy, I immediately began work on the second title.
I have no grand plans for these rebinding projects. I am simply progressing through it organically and I will continue for as long as I love doing it. I'm certainly not doing it for the money because there isn't much there. This is less of a commercial venture and more of what I spoke about earlier. It is something I love to do, and not only for myself but for the pleasure it brings to those who have bought them.
The rebound books are limited to 26 copies of each title, and once they are sold, no more will be made. I do make a few extra marked as rebinder's copies which are donated and given to the artist involved in the project.
Thank you to everyone who buys these books and for your enthusiasm. It's part of what fuels me to keep making them and it means a lot to me.
May we never lose the child and always do what we love.
Peace,

December, 2016